Colonia de Sant Jordi Majorca
Do you want to explore every corner of Colonia de Sant Jordi and its surroundings? Then look no further – you're in just the right place.
All about Colonia de Sant Jordi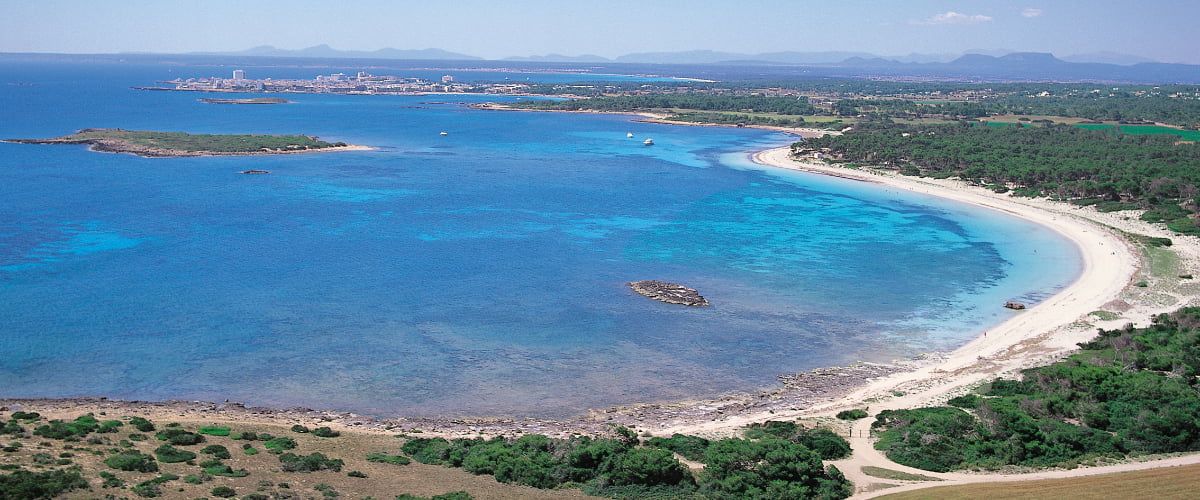 Colonia de Sant Jordi is one of the most magical hidden spots on the island of Majorca. It's a place filled with unique beaches, nature and tradition.
This little town is famous for its excellent views of the incredible island of Cabrera. It's also known for being the main access point for stunning beaches, such as Es Trenc, Es Carbó o Es Caragol. But Colonia de Sant Jordi is much more than that: salt mountains, beautiful sunsets, unforgettable walks, marine caves, cycling tours, bird watching, hiking…
In fact, there is so much to do in Colonia de Sant Jordi that we at Hotel Colonial have decided to create a blog dedicated exclusively to discovering all of its traditions and best hidden spots.
Beaches in Colonia de Sant Jordi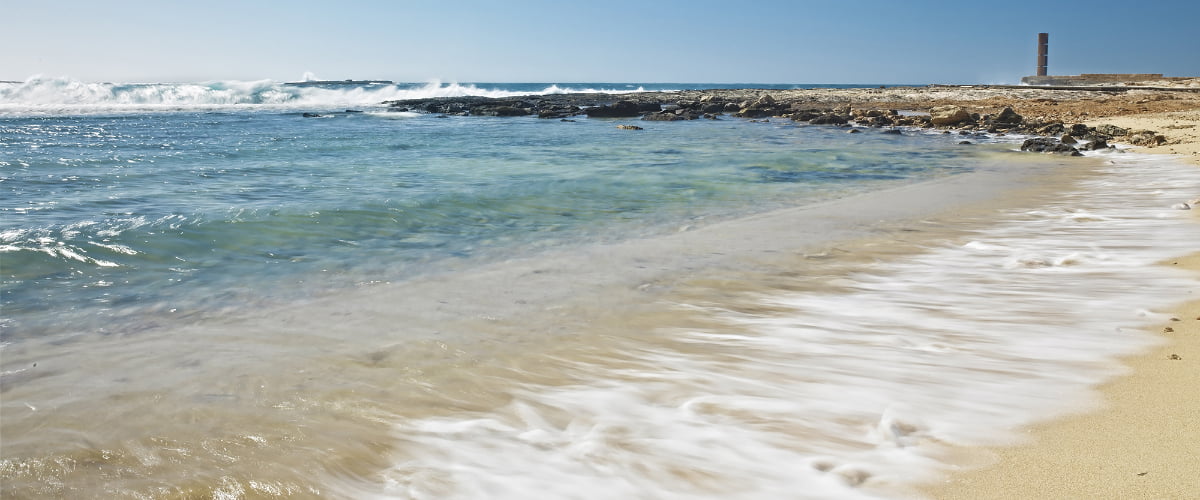 The beaches in Colonia de Sant Jordi deserve a special section devoted to them. In our blog we'll take a closer look at each of the hidden gems along this part of the coast, one of the most unspoilt areas in Majorca.
For now, the main thing you need to know is that in Colonia de Sant Jordi, you will find everything you can possibly imagine in terms of beaches: Tranquil bays for swimming (Cala Galiota, Sa Bassa des Cabots…), impressive unspoilt beaches (Es Trenc, Es Caragol, Es Carbó), urban beaches (Es Port, Es Marqués), secret coves, rocky coastlines, perfect spots for diving…
And that's just a few examples. Come with us and discover the beaches in Colonia de Sant Jordi!
The town of Colonia de Sant Jordi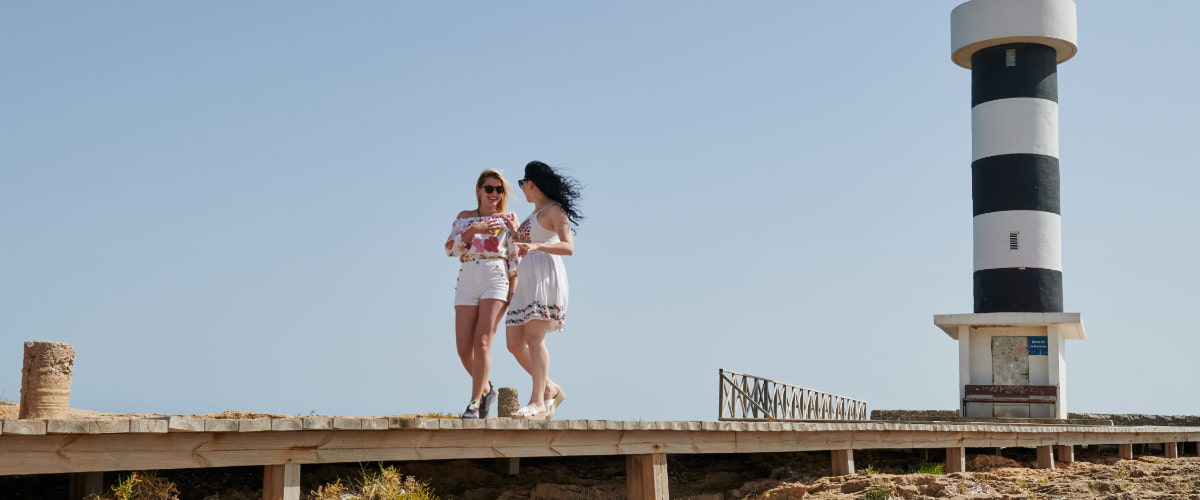 People talk a lot about the beaches in Colonia de Sant Jordi and the surrounding areas. But… what about in the town of Colonia de Sant Jordi itself? A small fishing village which, little by little, has grown into a place that offers locals and visitors everything they need.
Services and amenities
In Colonia de Sant Jordi, you will find all of the services and amenities you need: Pharmacies, supermarkets, a tourist information office, medical centre, shops…
Shopping
Here you can buy trinkets and ornaments, clothes, gifts, accessories, souvenirs and typical local products, particularly in the market on Wednesday afternoons.
Bars
Colonia de Sant Jordi also has a vibrant nightlife. Along Avenida Primavera and by the port, you will find the best pubs and bars in the area.
Sports facilities
Colonia has a sports centre with an athletics track, a football pitch and a high performance training centre with an Olympic swimming pool.
Places of interest
Take a walk through Colonia de Sant Jordi and you will find the Seafront Promenade, the Port, the Lighthouse, the Cabrera Information Centre, and much more.
Restaurants
There are infinite options for eating out in Colonia de Sant Jordi: Restaurants with a range of menus, the best paellas, tapas bars, beach clubs, traditional cuisine… What do you fancy?
Hotels in Colonia de Sant Jordi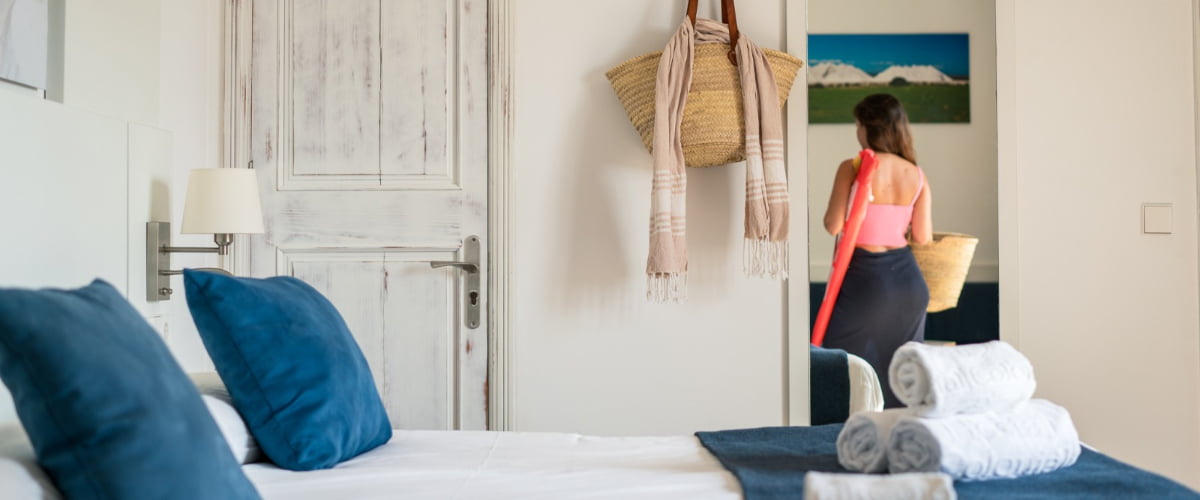 There are lots of hotels in Colonia de Sant Jordi, but none are like ours. At Hotel Colonial we have been showing our guests and friends the best kept secrets of the region since 1948.
At our hotel, you will find friendly service, a buffet of fresh garden produce, comfortable rooms, spacious apartments and one of the most traditional ice cream parlours in Majorca: The Heladería Colonial.
As we have a passion for cycling, we also offer lots of specific services for cyclists here at Hotel Colonial.

The island of Majorca is a truly multifaceted place. The whole length and breadth of its surface is home to such a huge variety hidden landscapes, it's sometimes hard to believe they all form part of the same island. The colour of the water is the most surprising, as it's different in every part of the island – but always incredibly special.
Colonia de Sant Jordi acts as an excellent base for exploring the southern face of Majorca, with its characteristic sandy beaches, crystal clear waters, little villages and charming fishing ports. As for the colour of the water in southern Majorca… it will leave you speechless. All you need to know is that many refer to this area as the "Caribbean" part of Majorca.
Here are some of our recommendations for exploring this region:
Portocolom – Santanyí – Mondragón Natural Park – Cala d'Or – S'Alqueria Vella – Cala Figuera – Sant Salvador – Castillo de Santueri.
Imprescindibles de la Colonia
If you have any questions about your next stay, please do not hesitate to contact us.
We will be happy to help you to make your stay unforgettable.